Closer Fails To Close The Door.
June 5, 2013 in Sports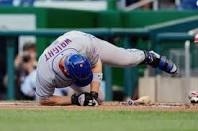 After a truly amazing sweep of the Yankees, a mediocre series with the Florida Marlins, the New York Mets let a strong pitching performance by Jeremy Hefner go to waste. Run production was scarce in this game as the Washington Nationals also had a dominating pitching performance by their starter Ryan Zimmerman. With the Mets lead going into the bottom of the ninth inning and their all star caliber closer on the mound in Bobby Parnell the lead felt safe. The Nationals had other ideas, they had timely hitting that the Mets lacked, took advantage of an off night and wildness by Parnell culminating in a walk off sacrifice fly 3-2 victory for the Nationals. With the All-star game a month away marking the mid point of the season, the arrival of phenom Zack Wheeler, the Mets need to first string victories together before they start tallying all-star votes and roster spots are lost.