Local kid makes good.
April 22, 2013 in Sports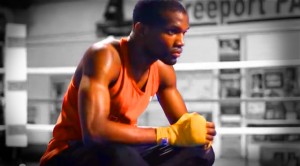 They say it's not where you from but where your going that matters. But isn't it a little bit more sweeter when the local kid, the underdog makes good. Titus Williams of Elmont, New York, not only over came a previous opponent who already had a victory over him ( Rocky), put on a performance that can inspire future generations (Hoosiers) to not only pick up boxing as a sport but that anything is possible with hard work and dedication. Isn't that the true essence an beauty of sports that any moment records can be broken, a new champion can be crowned. Theirs something special, even magical about amateur sports that feeds the soul and the longing for something untainted that brings joy to the masses that professional leagues have lost over time. So as the dust settles, the crowd dwindles down, the what next process proceeds for the Champ, we as society always looking for the next best thing should savor this moment. For I believe Titus Williams has undoubtedly the love and respect of his family and friends, a strong faith background, a good head on his shoulders, and the admiration of his Long Island community. This package in one athlete comes if we're lucky once in  a lifetime, so let's not be so hasty to find the next Golden child, let alone the right Golden Gloves champion. The Champ and the sport deserves at least that much from us.
To learn more about this amazing athlete:  http://shar.es/JIlSl